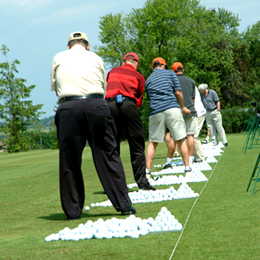 Photo Credit: Dion Widrich
Regardless of your experience or ability level, there is a type of golf instruction that will take strokes off your game. All you have to do is decide which golf instruction method is right for you. Here is some information to help you decide which best fits your game.
Individual golf instruction
Personal attention from a professional golf instructor will help your game whether you shoot below 80 or above 100. Beginners benefit from the tailored assistance, which speeds up the learning process and reduces frustration by providing instant feedback. More experienced golfers use the focused attention to fine-tune specific aspects of their games, such as enhancing bunker skills or perfecting the long irons. However, personal golf instruction is a serious commitment of money and time. If you are just giving golf a try, individual lessons may not be the right option.
If you are serious about improving, you can get personal golf instruction sessions from your local PGA professional or one of the numerous golf academies located throughout the U.S. and world. Golf pros and academies offer a variety of golf instruction packages that fit most golfers' needs. For example, you can purchase a series of one-hour sessions, a one-time multi-hour session or have a golf pro coach you through an entire round of golf.
To make the most of your personal golf instruction sessions, here are a few tips:
If you don't know what you want to learn, neither will your instructor. Focus on only a few things you want to improve upon for each session. If you try to do everything, you will accomplish nothing.
The more questions you ask, the better. Your goal is to learn, not practice your swing. You won't perfect your swing in an hour, but you can learn how to perfect it (Stenzel).
There is no one perfect swing. Consider this quote from PGA Director of Instruction Rick Martino, "Let me warn you that anyone who forces you to play golf their way -- and their way only -- is doing you a grave injustice. ... Remember: There are no absolutes in the golf swing, only principles. Absolutes are reserved for ball flight, that's why they are called Laws," (pga.com).
Group golf instruction
Group golf instruction is a great way to get into the game of golf, learn new skills or improve with your friends. They are fun, informative and available in many different forms. There are beginners' courses, specific skill set courses, swing analysis courses and much more. Group lessons aren't as tailored and focused as individual lessons; however, having others with you who whiff the ball too can aid your confidence. Group golf instruction is available at the same places as individual instruction. Although, there are many more types of packages available, ranging from vacation-like getaways to couple-only workouts. Contact your local golf pro or look into golf academies for specific details.
Independent golf instruction
If you're the do-it-yourself type, short on free time or, like many, prefer keeping your slices to yourself, you can coach yourself in private with golf training aids and videos. There are numerous training aids and instructional videos. When it comes to videos, find one that specifically fits what you need. Beginners may want an overview video, while an intermediate golfer may need help with his or her short game. Whatever it may be, don't buy instructional material unless you find your exact fit. As for training aids, focus on one area of your game, and find the right fit. For an overview of the many different types of training aids see our related article
Golf Training Aid
.
Another option to consider is a video swing analysis service. You record your swing, send them the film and they send you a detailed analysis of your swing. They identify what you are doing right and wrong so you can make necessary improvements. The service is a good alternative to visiting your local golf pro.
Books, magazines and newsletters: Golf books, magazines and newsletters provide valuable information about everything from the PGA Tour to the type of golf shoes to buy. Their emphasis on text allows them to provide detailed, in-depth information that can enhance your game. However, because they can't visually depict movement, their instructional abilities fall short of lessons, training aids and videos.
Golf instruction books allow you to learn valuable information at your own speed. Their photos, illustrations and written instructions can help you understand technique and recognize flaws in your game. They can also serve as a reference guide anytime you have a question. However, because the game of golf and golf equipment changes so rapidly, they may not be the best source for current reviews or the latest techniques.
Golf magazines, on the other hand, can be a good resource for the latest golf tips, hottest courses, breaking tour news and current equipment reviews. They are easy to read, offer pictures and can be good entertainment.
Golf instruction newsletters provide the most up-to-date information, and they can help continually improve your golf game. A daily, weekly or biweekly newsletter containing tips and pointers can focus your practice and provide insight into how to drop a few strokes from your game. However, most newsletters assume that you are already knowledgeable about golf. It's best to get a solid foundation with other golf instruction rather than relying solely on specialized tips. The tips can help you hone your game, not show you how to play.
Whether you are a just getting into golf or have over a thousand rounds under your belt, golf instruction can make you a better player. Even the best golfers in the world seek out instructors, training aids, videos and books to help make their games better. Why shouldn't you? The secret is to find what works best for your game, and stick with it. The saying that practice makes perfect only applies if you are practicing perfectly. Golf instruction can help you make the most of your practice time, helping you improve.