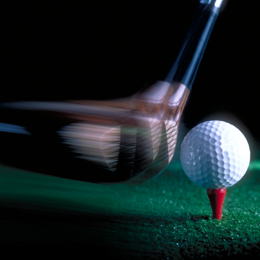 Photo Credit: Greg Blomberg


Impact Decals and Impact Tape:
Impact decals and tape adhere to the face of your club, and when you hit the ball an imprint is left on the decal or tape where the clubface struck the ball. There are a variety of shapes, sizes and designs to choose from. Some have targets, pictures or designs printed on them. Others are white ovals or thin strips of tape. All of them function similarly and should easily peel off the clubface without hurting your club when you are finished.
Impact Dust and Impact Paint:
Impact dust, also known as impact spray, comes in a small canister that is applied to your club like spray-paint. Hold the canister several inches from the clubface and spray until covered with the bright powder. Golf impact indicator paint is applied like a paint marker. You lightly dab the bottle onto your clubface until it is coated. When you hit a ball, an imprint will be left on your clubface. When you are finished, both types of golf impact indicators clean off with a damp cloth and can be reapplied once the clubface is dry (golfdust.com, surswing.com).
Another golf impact indicator that works like impact dust is talcum powder, according to John Strege and Scott Smith in their 2001 article
Where's Your Hot Spot?
published in Golf Digest. Apply it to your clubface, and it leaves an imprint when a ball is struck. When you are done, it wipes off with a towel.
Impact Patch:
An impact patch is a tailored piece of suede leather that adheres to your clubface. When you hit a ball, the leather retains an impression from the impact. You can quickly brush away the image with your thumb and swing again. For example, the CaddyPatch is thinner than a credit card so it doesn't adversely affect your shots, and it can be used to hit over 100 balls. When you are finished, you can peel off the CaddyPatch, put it back into its protective sleeve and use it for your next practice session (caddypatch.com).
Impact Mat:
If you want to hone your point of impact but aren't able to hit golf balls, a golf impact indicator mat is a good solution. It can be used anywhere you can safely swing a club. The mat lies on the ground and has several images of golf balls for you to address. After each swing you can analyze the scuffmark made over the targeted ball. For example, the DivotMat can tell you if you are shooting a hook or slice, hitting thin, standing too close or too far from the ball, scooping or making perfect contact (divotmat.com).
To select the right golf impact indicator for your golf game, consider your personal situation, preference and budget. If you can't get outside much, an impact matt is your best choice. If you don't like reapplying tape or dust to your clubface, an impact patch might be a better fit. Do some research about the specific products that interest you, and then decide which golf impact indicator fits your needs.
Additional Information:
If you would like to find other golf training aids like golf impact indicators that will improve your game, read our related article
Golf Training Aid
, which is a comprehensive guide for golf teaching tools.
You can also look at our related article
Golf Teaching Aid
, which tells which golf training aid works best to help each part of your swing -- from your address to your follow-through.
Our related article
Golf Teaching Tool
tells you which training aids correspond with each part of your body, including your wrists, elbows, posture, legs and feet.